Plus: Nerdist team will square off in Evolve tournament at E3 Expo
June 5, 2014, Burbank, CA -- Breaking: Chris Hardwick and Sam Witwer will be joining the cast of the upcoming series '
Tales from the Borderlands'
from
Telltale Games
and Gearbox Software in partnership with 2K Games. Chris joins the main cast in the role of 'Vaughn,' best friend of 'Rhys,' played by Sam Witwer, as the two Hyperion workers venture to the desert world of Pandora in search of a mysterious vault key. The cast will also include the talents of other actors such as Nolan North, Nerdist
podcast
favorite Patrick Warburton, and multiple members of the cast of the 'Borderlands' series including Dameon Clarke.
The series is expected to premiere for download later this summer, and will be shown for the first time behind closed doors next week at this year's E3 Expo. Check
Nerdist.com
for updates throughout E3 week.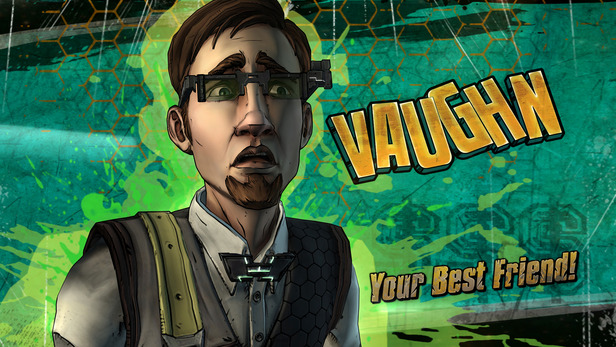 But, wait! There's more! This is just the beginning of all the gaming goodness
Nerdist.com
has in store for E3. Nerdist Team Captains Jessica Chobot vs. Dan Casey, and Brian Walton vs. Malik Forte will fight #4V1 in a cutthroat
Evolve
tournament throughout E3 week and culminating in an epic showdown. For full tournament line-up and schedule visit
here
and watch Chris Hardwick play the beast Goliath as he takes on the Nerdist team. The gameplay on the video is extensive and shows just how much of a badass Jessica Chobot really is.
The Evolve E3 tournament will stream live on
Twitch
.
Check out the full story on Tales from the Borderland on
Nerdist.com